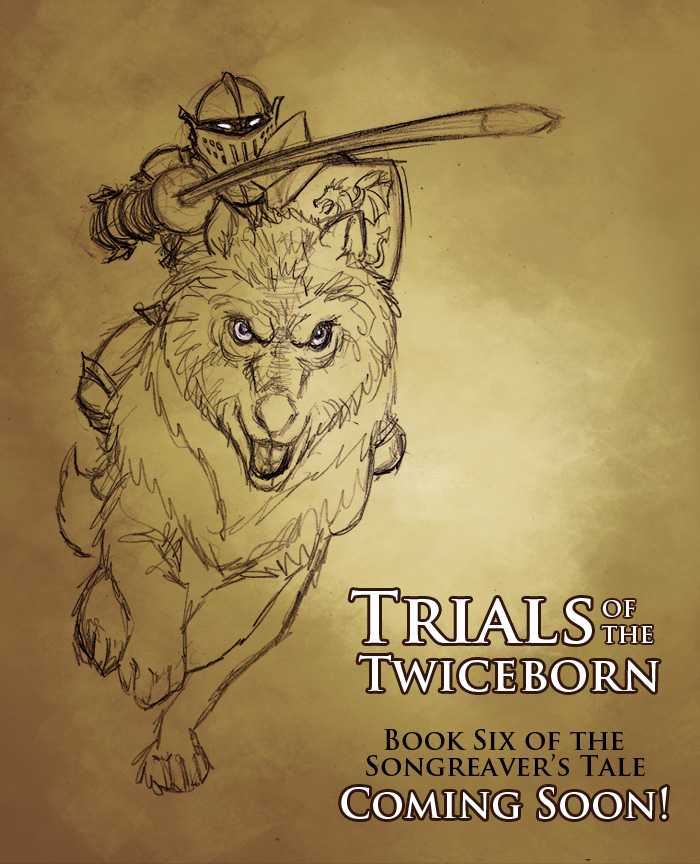 Greetings all!
I'm nearing completion on Trials of the Twiceborn, Book Six of the Songreaver's Tale!
In this latest chapter of the series, we follow Garrett north as he leads his army of the dead into the ancient kingdom of Astorra where he finds a less-than-warm welcome awaiting him. In a land where everyone wants him dead for a crime he didn't commit, Garrett must contend, not only with the knights seeking the honor of taking his head in single combat, but with the growing power of the Spellbreaker's spirit within him. He'll soon learn that not even the dead rest easy in the shadow of King Cabre's throne.
Far to the south, Marla and her vampire companions must search for the very birthplace of dragonkind to find what secrets lurk in the shattered ruins of the world that was. Could the Dragon Queen herself be hidden, somewhere in the misty depths of lost Uroe, or will the vampire girl be forced to search within for the answers she seeks?
Heads will roll (well, at least one) in Trials of the Twiceborn!
Also, my good friend Heath Allyn has begun his latest audiobook recording of Book 2, The Hungering Flame!
We're a couple of chapters in, so far, and I'm enjoying his read immensely. I'm giddy with anticipation to hear Diggs and Scupp's voices for the first time outside my own head. And the Chadiri captain sounds very threatening! I can't wait 'till the Dragon Lord shows up.
I'll keep you posted!